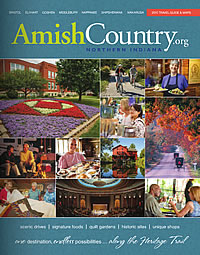 Enjoy the many area attractions listed below. Also, check out our other list of area links.
Plus, click the image to the right for an online travel guide about northern Indiana's Amish Country.
SHIPSHEWANA & MIDDLEBURY
The Antique Mall, Deutsche Kase Haus, and Yoder's Department Store are just a few of the area attractions to visit in Amish Country.

Blue Gate Restaurant & Theater - Located in Shipshewana, enjoy family-style Amish cooking, bakery, musicals, music entertainment, gift & craft shops, and much more.

Trading Place - Just a few short miles away, this is home to the famous Shipshewana Flea Market, open May thru September on Tuesdays & Wednesdays. Here you'll also find antique auctions, livestock auctions, and more.

Menno-Hof Mennonite Visitors Center - Menno-Hof offers a non-commercial setting for Shipshewana visitors to learn accurate information about the faith and life of Mennonites and Amish in north-central Indiana, one of the world's largest Anabaptist communities.

Das Dutchman Essenhaus - Enjoy delicious made-from-scratch Amish meals in their restaurant, or browse their gift shop and bakery for yummy Amish treats to take home. Located in Middlebury.

Middlebury - Information about Middlebury and things to do around the area including information about shopping, eating places, etc.
ELKHART COUNTY
Amish Country - Elkhart County Convention Bureau

Elkhart County Parks - information about parks in the area including Bonneyville Mill Park. We have a hiking trial to that goes to Bonneyville Mill County Park.

Elkhart Jazz Festival - An Event that takes place every year in June.

RV MH Hall Of Fame - This is a local Heritage museum. They have on display old RV's from 1913 to 1960's.
INDIANA
IndianaOutfitters.com - Indiana's Online Outdoor Recreation Guide - With detailed info on hundreds of outdoor recreation destinations throughout Indiana, plus outfitter information, it's easy to plan your next Indiana trip.

IndianaRVing.com - You'll find info on where to rent RVs, where to buy campers, RVing tips, and more!