Take a look at some local resources below. Also, be sure to check out our list of more local attractions.
NEARBY FUN STUFF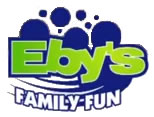 Eby's Family Fun Skate Center/Laser Tag Arena/Mini Bowling - Located right across the street from Eby's Pines Campground is Eby's Family Fun featuring a roller skating/roller blading rink, laser tag, and now mini bowling. It's great fun for the whole family. Find out more about the roller skating, laser tag and mini-bowling facilities by watching this Eby's Family Fun commercial.
RV SALES & SERVICE
Campers Inn - Find a full range of new and used RVs for sale, plus parts and service, in nearby Elkhart, Indiana.

Duncan RV Repair - Located on the south side of Elkhart, they specialize in warranty, retail and insurance repairs, full custom paint jobs, fiberglass and body repairs, generator repairs, windshield replacements, electrical and structural repairs including major frame damage, plus interior conversions and modifications.

The RV Center - New and used RVs for sale, plus accessories and service. Located in Columbia City, Indiana.
RV SUPPLIES
Bontrager's Surplus - Find surplus RV supplies and accessories, mobile home supplies, and home improvement materials. Located just over the state border in White Pigeon, Michigan.
AREA BUSINESSES
First State Bank - Serving Middlebury, Goshen and Elkhart, Indiana.

Yoder's Hardware - Located inside Yoder's Shopping Center. Discover a treasure chest of old-fashioned, hard-to-find merchandise. A unique blend of new and old items for home, garden, and farm. Campers will enjoy browsing a section dedicated to cast iron cooking. Knowledgeable, courteous staff. Special orders welcome. Open 8am-5:30pm Mon-Sat.

Max Myers Motors - New and used automobiles for sale, plus auto service. Located in Middlebury, Indiana.
BUSINESS AFFILIATIONS
Indiana Campground Owners Association (ICOA) - We are a proud member of this association.


Indiana RV Lifestyle is Indiana's Online RV and Camping Magazine!